Cave diving with my friend Cliff Atkinson
I just spent a week diving in caves guiding a good friend from New Mexico, USA, Mr. Cliff Atkinson. Cliff is a very interesting person, he is a lawyer and adventurer at the same time, who travels around the world with guides like me but in different disciplines, it is always a joy when it comes because we do not only talk about diving but many topics in general of life and especially of their trips. In the mornings we dive in caves and at night we celebrate our friendship in
Cenote dos Pisos Photo shoot
Photographic shot at cenote Dos Pisos, with Pablo Gamba as a Model with the use of 4 strobes with slave sensor to create a dark & shadow and most close ambient feeling atmosphere of a cave dive, and to show the amazing size of the place For Cave diving training or photo and video workshop please contact me. . #sidemount #undewaterphotography #Stagediving #Mexico #Technical #caverndiving #caves #cenotes #cavediving
Tip´s for cave diving Photography
If underwater photography is a small niche in the wide world of photography, cave-diving photography is its obscure foreign cousin. Challenges include taking enough light into very dark places, managing the risk of adding tasks to an already task-loaded technical dive and finding something to photograph when there's not a single colorful critter in sight. On the other hand, the crystal-clear water, mysterious darkness and lure of the unknown can be a fantastic canvas for crea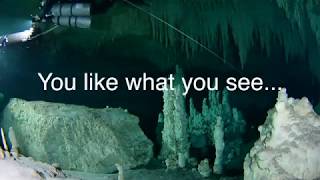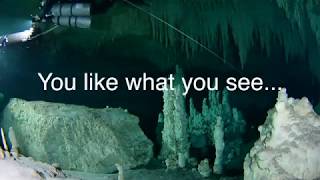 You like what you see... - Te gusta lo que ves...
ENGLISH On this occasion, the project I had in mind was to make a short film in which I could present myself and represent something of what we do in Advanced Diver Mexico. It all started with making a promosion similar to the one I saw in 1999 on tv. and he helped me make the decision and certify me in cave diving in the year 2000. I go back to the year 1999 and I tell you, that one night in the room of my apartment in the city of Cancun relaxed after an arduous day of work,
DPV Photo shoot session in Cenote Jardin del Eden
Great day at Jardín del Edén with Danny Fugate and Pablo Gamba! After 3 hard days of IANTD DPV cave course, today the kids have time to enjoy and practice what they have learned on the program. As usual, I take my camera and take some pics. Training is the key to improve one's diving skills. Cave diving needs hard work and it is unbelievably rewarding and beneficial for all of us. #sidemount #undewaterphotography #Mexico #sidemount #caves #cenotes #cavediving
CENOTE NAI-TUCHA PHOTO SHOOT SESSION WITH PABLO
Today as always is a good day to cave dive in Mexico, and I take my camera with me and 4 strobes, two for my camera and other 2 strobes with slave sensor to place in the cave and provide me more field of depth. My friend and colleague Pablo help me modeling for the camera, we did not penetrate too much into the cave, it was not necessary to go far from the entrance, this cave is super decorated from the beginning to the end and with different scenarios. I been in this c
Una vez mas pasamos a visitar a esta maravillosa cueva, que belleza, ver su esplendor y el tamaño de estos tunnels. Por primera vez visitan Josue y Pablo esta increíble y grandiosa gruta, no tenían palabras para expresar lo que vieron, y ellos están acostumbrados a ver cuevas en Yucatan pero nada como esta! El plan comienza una vez que nos ponemos de acuerdo de ir a bucear, por lo general yo tengo un arreglo con todos mis estudiantes locales, y es el siguiente, una vez que e
Coop 1 is a cenote part of the Tux-ku-Paxa cave system, in the same road to Nai-Tucha cenote, you can get the key at Zero Gravity, the entrance fees is $100 pesos. The road to Coop 1 is very rocky and is in the middle of the jungle. The ride is about 30 min. from the high way, in the cenote entrance you can appreciate the made much bigger with a bulldozer, the dive is worth it! The average depth is about 28ft, is full of formations, cause is far from the city expect many mosq
Cenote diving / Cavern Diving Is Fun!!!
Guiding Caverns: It is a fun way to experience some overhead diving using normal Open Water SCUBA Equipment. With your basic Open Water Certification and some experience you can enjoy diving in crystal clear water passing formations of Stalactites, Stalagmites and Columns. If you liked your first Cenote Dive you can continue to explore some other Cenotes like Gran cenote, El pit, Dos ojos, Dream gate and many more. Your Cavern Dives are limited to the entrance of the cave wi